Custom residential exterior door solutions - knowledgeable helpful staff
We specialize in Dimensions and Dorplex residential replacement entrance door products. These outstanding secure performance entrance doors are maintenance-free and available in an almost unlimited assortment of colours, styles, hardware, door lite and side lite options to meet your unique custom door requirements.
Come talk to our knowledgeable entrance door experts, we can help you sort through the colours and options to find the entry door solution for your home that's just right for you.
Residential Door Features & Options:
Dimensions Doors has been innovating for nearly 30 years now. Our unparalleled expertise, experience and service is delivered to you through reliable distributors throughout Eastern Canada.
We manufacture a wide range of more standard products, and also specializes in custom-made products. With state-of-the-art equipment, anything is possible.
Over the years, Dimensions Doors has built a strong and reliable team, offering personalized service in order to better meet your requirements. This team is the key to our success!
Standard features:
Prepainted white slabs on all standard
sized wood-frame doors
Standard 4"X4" hinges will fit the hinge preparation
Wood brickmould
Brass hinges
1 1/4" wood frame for maximum rigidity
24-gauge hot-dipped, galvanized steel with polyurethane foam insulation for the ultimate in strength and durability
Dorplex is more than elegance and style. For close to thirty years, Dorplex has been about the high quality materials they use to manufacture their products. Whether it's steel or fiberglass, Dorplex is quality with pride and passion.
Your entranceway will give the outside world a sense of who you are. Feel free to let your creativity explore the endless possibilities available through Dorplex.
Choose from dozens of Dorplex decorative glass styles or the simplicity of traditional panelled door.
Standard features:
Lifetime Bayview Windows Labour Warranty
Lifetime Dorplex Product Warranty
24 gauge steel slab - pre-finished to resist rusting
Pine finger jointed wood with no knots
Brickmold comes in 1 5/8" and 2 1/8" to meet your measurement requirements.
Durable door sweep is made with 10 fins to stop cold, wind and rain from entering your home.
Weather stripping is inserted into the door post to prevent air infiltration
Laminated vinyl cladding systems that is glued to the wood substrate
Premium ball bearing hinges to allow the door to move more freely through the entranceway
Slab is filled with a polyurethane insulation - keeps your home warm in the winter and cool in the summer
Lock block is 16 inches which will accommodate almost all hardware.
Choose from a wide variety of Stain and 39 Designer
Steel and fibreglass options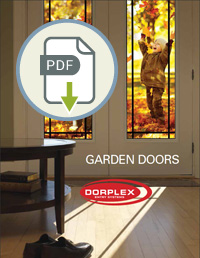 Door lites - match your unique taste and style to your house
Our entrance doors can be paired with hundreds of door lite options from Novatech, Vitre-Art and Verre-Select. Choose from a huge selection of standard or customized designs in stained glass, frosted glass, obscured glass, print on glass and more...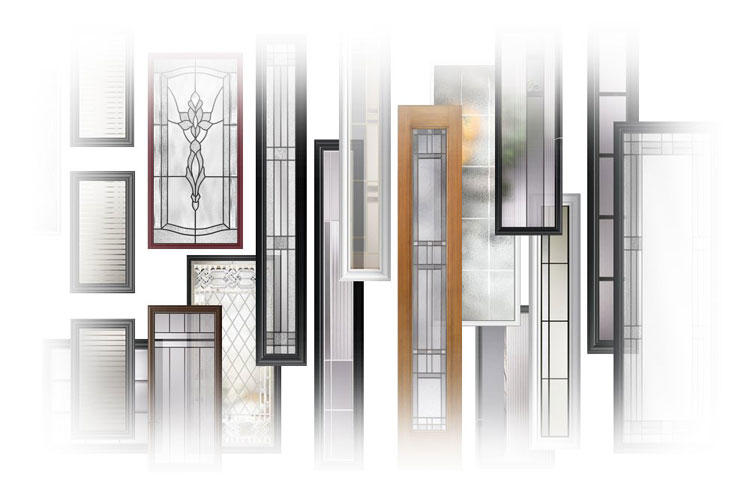 Visit our door glass-lite supplier partners and find a door-glass or side-lite that matches exactly what you want or better still, come visit us and our friendly knowledgeable personnel will help you find a perfect fit even faster.
Energy Star Certified Doors
All of our entrance door products are Energy Star approved, and many of our glass and door lite suppliers are as well. For more information on our suppliers, please visit respective links within the Features and Options section below.
Premium craftsmanship
Using only premium-quality installation materials, our professional installation teams take pride in ensuring the highest of quality and craftsmanship in everything they do.
We guarantee all our work with a lifetime limited warranty on labour and materials, so if something we've done is not quite right, give us a call and we'll come out and fix it.
Visit our showroom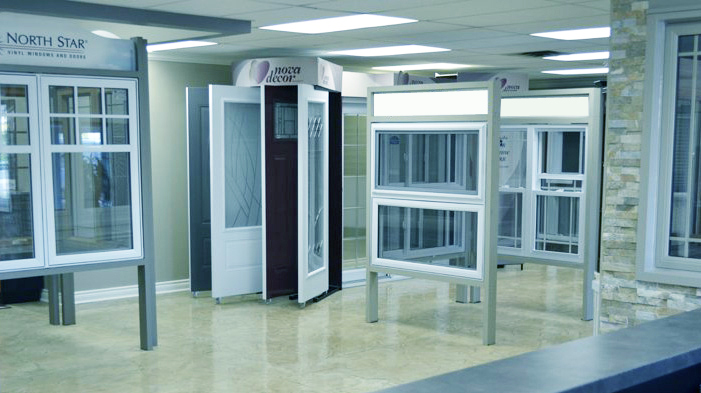 Come visit our showroom in Richmond and talk to the friendly, knowledgeable staff. We'll help you choose a solution that's right for your home to maximize your aesthetic and budgetary requirements. Call for a free at-your home consult and quote.
For your convenience we offer after-hours showroom appointments during the week and on weekends so you can see samples of our products.